Guess what?  There are two brand new workshops available, and I get to give away a spot in each of them!!
First up, one commenter will win a place on Amy Tan's new Two Peas workshop Collect & Create, worth $25!
Here's the Class Description:
As crafters and storytellers, we are natural collectors. We save everything from treasured products and pieces from our everyday lives, to scraps and sketches. Incorporating these elements and all of our favorite bits from life are essential to the process of creating. I want to help you create with what you collect!
In this self-paced class, my contributors and I will show you over 50 brand-new projects! Five chapters covering a range of topics are each supplemented with a printable PDF providing step-by-step photos and in-depth looks at the process behind the pages. Get your creative juices going with the "extras" in the PDF's like challenges and tips, and be inspired by the video in each chapter covering even more examples and tutorials!
Collect & Create explores different styles, as well as my favorite go-to techniques like embossing, using up scraps, incorporating real memorabilia, misting, mixing products and colors, and using sketches. Join me and together we'll create a whole new collection - pages and projects we love!
Remember, if you purchase the workshop now, and then you win it here, you can always have the class fee refunded OR you can give your free class to a friend!  And speaking of registering early…
**When you purchase this workshop before April 12th, you'll receive a FREE printable PDF made up of Amy's label and border designs! Find it in the "My: Downloads" section upon purchase, click on the Digikit tab, print and enjoy. You'll want to hurry, this is a limited time offer!
To enter, just leave a comment on this post, including your Two Peas username.
Next, I get to give away a spot in this new "Spring Training" class from Ella Publishing.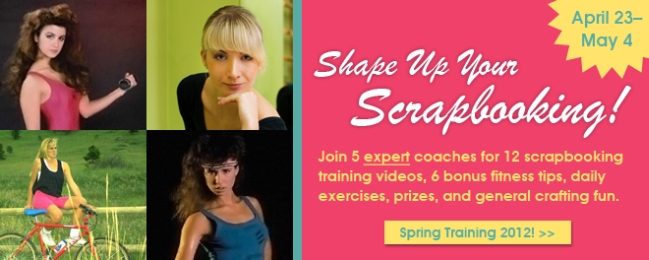 As Olivia Newton-John famously sang in the '80s, Let's Get Physical! For twelve days, April 23 to May 3, join us in the exclusive Spring Training craftnasium for a series of targeted daily "exercise" sessions—led by five pro scrapbookers—that are guaranteed to:
jumpstart your creativity and exercise your scrapbooking muscles
inspire you to lead a healthy and balanced crafting lifestyle
give you new skills to try AND remind you of important foundational principles
get you in tip-top scrapbooking shape just in time for (inter)National Scrapbooking Day on May 4th
What You'll Get
12 exclusive video coaching sessions (that never expire!)
12 targeted training exercises
4 expert coaches
4 live chats
6 bonus scrapbooking fitness tips
20 inspiring minutes a day
a place to upload your work and connect with other scrapbookers
concrete challenges that result in meaningful layouts
daily challenges, bonus downloads, sponsor prizes, and more
1980s aerobics-queen references galore
email reminders that it's time to put those legwarmers on and get ready to scrap!
=
1 amazing online event that includes hours of scrapbooking fun


Register Now for $44.99
Just $2.50 per video / mini class

To enter, leave a comment on this post! Two separate winners will be chosen – one for each workshop.
Be sure to leave your comment by midnight on Friday.  I'll choose a lucky winner on Saturday morning, so be sure to check back to see if it's your lucky day!
Good luck!
---